A DESCRIPTION OF THE ARCHITECTURAL COMPLEX
The whole complex of "VILLA GARBINATI", now "ZANOTTI FRAGONARA RIGO", is situated in Lupiola of Sandrigo, in the province of Vicenza. It is formed by several units, assembled in different ways.
At the moment, the complex is made up by a three-floors main building, that is the real Villa, with its façade west oriented. The east side of this unit is connected to the columbarium tower, which has the function of a staircase leading to the three floors of the Villa. Attached to the south side of the tower, the major barchessa is situated: it has two floors, and stretches from North to South, with a portico of the same height and before the inner garden.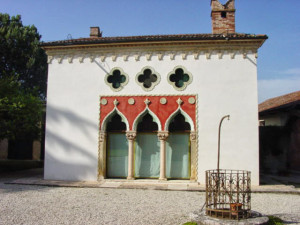 A neo-gothic style building, with a two-floors square plant, is situated north of the Villa, in a position that appears slightly turned in relation to the other units of the complex. A long one-floor building is attached to its north-west corner: it is placed against the perimeter walls and was used as a greenhouse. A low colonnade with gothic age capitals follows, continuing as far as the wall that separates the Villa from the road.
A long two-floors building is situated on the north-east corner of the Villa, having the same north-south orientation as the previously described barchessa. The whole complex is surrounded by walls, covering its north, west and east sides and closing the inner garden. The east side is closed by the wall of the main building and the above mentioned barchessa. The park outside the walls is part of the complex: it stretches southward up to the stream called Dindarello and northward as far as St. Cristina road.
---
Succession of property
1600 and before:
Famiglia GARBINATI
Early 1600:
Geronimo GARBINATI
Mid-1600:
Antonio GARBINATI
From Mid-1600 to 1700:
Famiglia GARBINATI
Mid-1700:
Francesco GARBINATI
Second half of 1700:
Giovanni GARBINATI
From late 1700 to 1805:
Eredi del fu Giovanni GARBINATI
(Cecilia, Maddalena e Francesca GARBINATI)
From 1809 to 1813:
Capitano Ignazio DI FRANCESCO
Maddalena GARBINATI LAGHI
Francesca GARBINATI TECCHIO
From 1829 to 1850:
Francesco TECCHIO del fu Sebastiano
From 1850 to ca. 1920:
Famiglia TECCHIO
From ca. 1920 to 1936:
Famiglia MORGANTE
From 1936 to 1989:
Famiglia GIARETTA
From 1989:
Famiglia ZANOTTI FRAGONARA RIGO